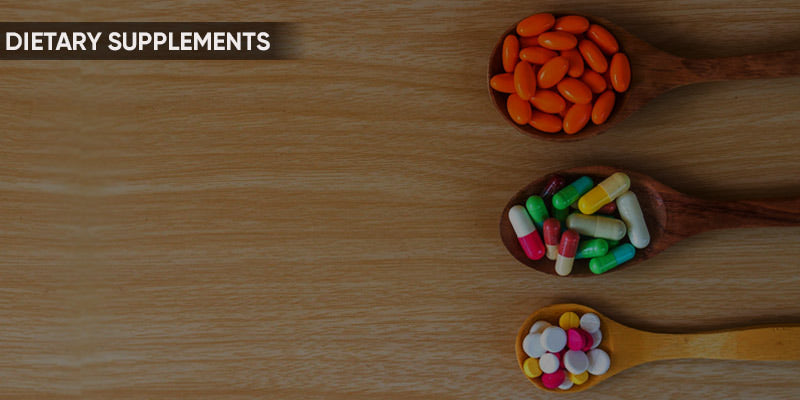 Dietary Supplements: Types, Benefits and Side- Effects
Dietary supplements are substances that add essential nutrients to your diet. They lower the risk of health problems, like osteoporosis, diabetes, arthritis, cancer and lots more. They contain vitamins, minerals, protein, fiber, amino acids, antioxidants, herbs of various plants, enzymes or botanical extracts. Sometimes, the ingredients in dietary supplements are added to drinks such as protein powder. They come in different forms such as in pills, capsules, gel tabs, powders, extracts, or liquids. Popular supplements include protein powders, multivitamin, minerals like calcium and iron, curcumin, probiotics and prebiotics, keto pills, green tea, ginkgo, ginseng etc.
Dietary supplements can help you extract adequate amounts of essential nutrients if you don't consume a healthy and nutritious diet. However, supplements can't take the place of proper food nutrients that are important for a healthy lifestyle.
Types
Vitamins
Minerals
Proteins and amino acids
Bodybuilding supplements
Essential fatty acids
Natural products
Probiotics and Prebiotics
Benefits
Normally, we all get essential nutrients from a balanced diet. However, supplements can provide us with extra nutrients when the diet is lacking or certain health conditions trigger a deficiency such as diabetes, cancer, osteoporosis etc.
Some dietary supplements can improve health and manage some health conditions. For example: 
Calcium and vitamin D help keep bones strong and reduce bone loss. 
Protein helps in muscle building and strength building.
Multivitamin supplement will provide all the micronutrients.
Keto supplement helps to lose weight by burning fat.
Folic acid decreases the risk of certain birth defects.
Green Tea boosts metabolism. 
Curcumin prevents heart disease, Alzheimer's and cancer
Safety and Risk
Some dietary supplements contain active ingredients that can have harsh effects on body. Always be alert to the possibility some reaction, especially when consuming a new product. You are most likely to have side effects if you consume them at high doses, or you take several supplements at a time. Some supplements can increase the risk of bleeding during surgery.
Dietary Supplements can also interact with some medicines in that might cause further problems. Manufacturers may add vitamins, minerals, and other essential ingredients to foods you consume, especially breakfast cereals and beverages. As a result, you may get more of the ingredients than you think, and consuming more might not be a better option. For example, too much vitamin A can cause severe headache, damages liver, reduces bone strength, and cause birth defects. Excess iron through supplement causes vomiting, nausea, and may damage the liver and other organs.
Always be cautious about before consuming dietary supplements especially during pregnancy or nursing. Also, be careful about giving supplements to child, unless recommended by their healthcare provider.
If you think that you have had a bad reaction while consuming a dietary supplement, let your healthcare provider know on time
Always Keep in Mind
Consult your healthcare provider before consuming any dietary supplement.
Get your healthcare provider's approval before taking any sort of dietary supplements in place of, or in combination with, prescribed medicines.
If you are scheduled to any type of surgical procedure, talk with your healthcare provider about any supplements you take. 
Do not consider that "natural" always mean safe. Some all-natural products, can harm the liver.
Before taking any supplement, talk to your healthcare providers to answer these questions listed below:

What are its benefits for me?
Does it have any side effect?
What is its proper dosage?
When, how and for how long should I take it?